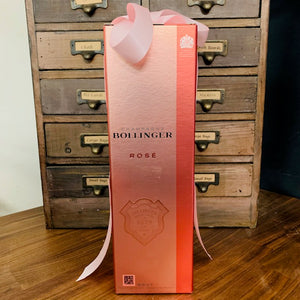 Bollinger Non Vintage Rosé Champagne. The House of Bollinger has been producing fine wines of Champagne since 1829. In the last 180 or so years they have built a reputation of the highest standard. Rich and subtle with a pleasant nose and flavours that come back begging you for more, this is one of the finest non vintage Rosé Champagnes.
*Please note that under the Victorian Commission for Gambling and Liquor Regulation
alcohol must be accompanied by flowers or other giftware.

T

he value of the liquor and its container must not be more than 50 per cent of the gift's sale price
both the purchaser and recipient of the flowers or gift must be 18 years or over.