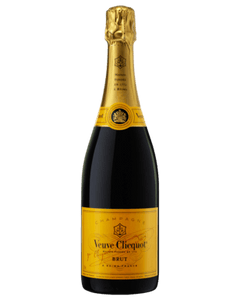 Veuve Clicquot Yellow Label is one of the most popular and recognisable Champagnes throughout the world. With its distinctive yellow label, Veuve Clicquot is the enduring homage to the great Madame Barbe-Nicole Clicquot. Under Madame Clicquot's guidance, this famous Champagne house became a global phenomenon and a continued success story. A Champagne from the fuller-bodied school with flavours of buttered toast, brioche and biscuit to complement the ever present fine acidity and flavour length that is a trademark.
*Please note that under the Victorian Commission for Gambling and Liquor Regulation
alcohol must be accompanied by flowers or other giftware.

T

he value of the liquor and its container must not be more than 50 per cent of the gift's sale price
both the purchaser and recipient of the flowers or gift must be 18 years or over.